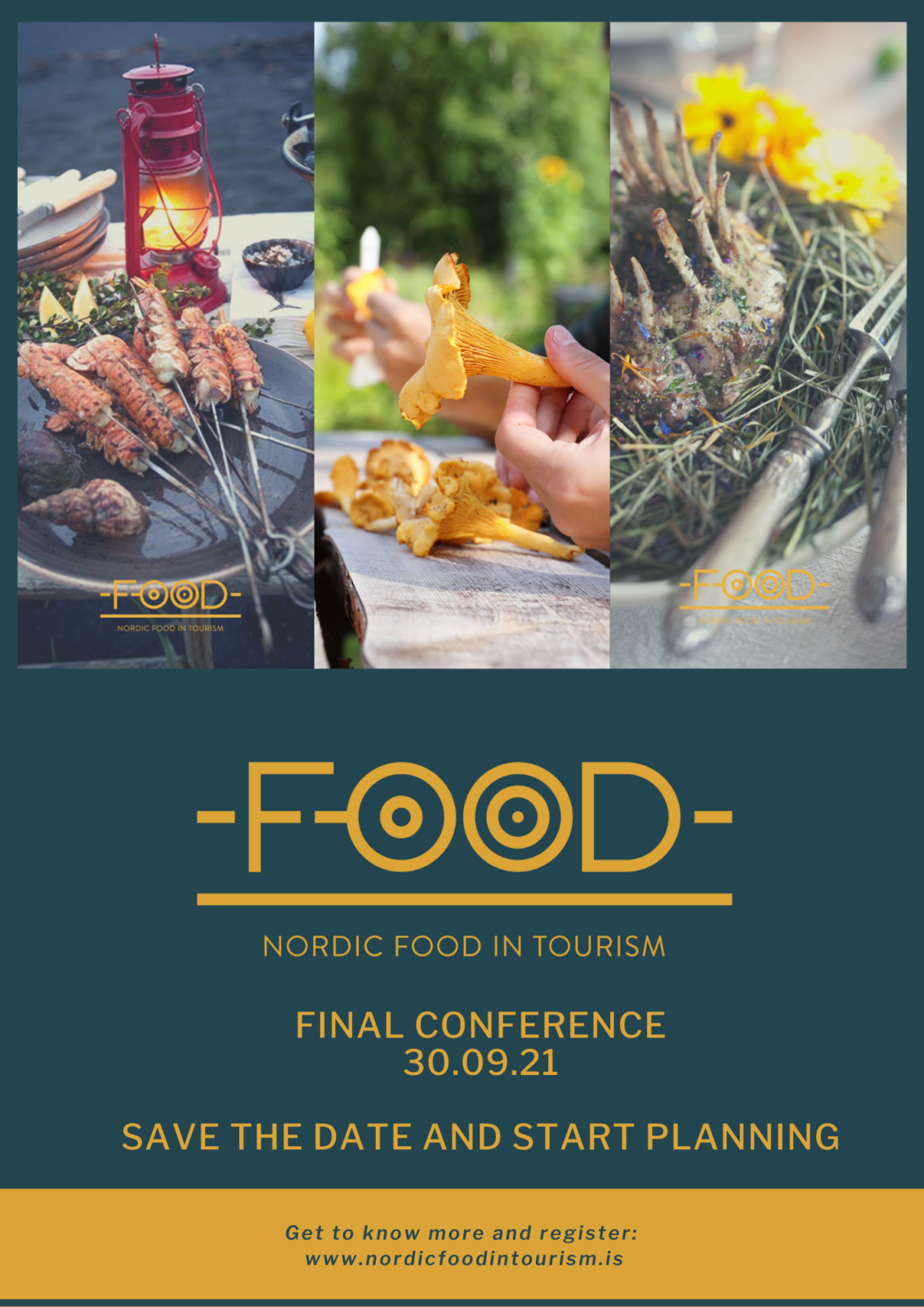 Final Conference – September 30th 2021
Join us on September 30th in Iceland and discover the future of Nordic food in Tourism.
Many Nordic reports have been issued on sustainable tourism and Nordic food systems, but few have specifically focused on FOOD IN TOURISM and the importance of the food and tourism sector working collaboratively and strategically together enhancing sustainable development.
The event will take place in Egilsstaðir, Austurland (East-Iceland)
Take a look at the input from our speakers:
Afton Halloran, PhD Independent Consultant in Sustainable Food Systems Transitions
Communicating the impacts of climate change in Nordic Food Systems
Bård Jervan, Senior partner and founder of MIMIR AS and co-founder of BeSmart Nordics AS
The new National Tourism Strategy for Norway, and how food experiences are part of it
How can Behavior Design and nudging be used to stimulate local value creation and sustainability?
Birna G. Ásbjörnsdóttir, M.Sc. in Nutritional Medicine
Food and nutrition as medicine – changes ahead
Brynja Laxdal M.Sc. Nordic food in Tourism
Nordic food in Tourism 2019-2021
Daniel Byström, Industrial Designer and Founder of the Swedish design agency, Design Nation
Visitor´s Journey and design thinking
Erik Wolf, founder of the food travel trade industry, and Founder and Executive Director of the World Food Travel Association
The future of Food Tourism
Jonatan Leer, PhD, Head of Food and Tourism Research University College Absalon, Roskilde Denmark
Sustainable Food Tourism in the Nordic Region: examples, definitions, and challenges
Sara Roversi, Founder of Future Food Network and Director at Future Food Institute
How will food tech shape the future of food?
Þórhallur Ingi Halldórsson, Professor, Faculty of Food Science and Nutrition, University of Iceland
Towards sustainable diets: Facts, obstacles, and future perspectives
There will also be presentations on best case practices from Aland Island, Denmark, Faroe Island, Finland, Greenland, Iceland, Norway, and Sweden.
Mark your calendar and start the planning –  We would absolutely love to see you in person but don´t worry if you can´t make it to Iceland as the conference will be hybrid.
The team of Nordic food in Tourism, a project funded by the Nordic Council of Ministers
https://www.facebook.com/nordicfoodintourism/
https://www.instagram.com/nordic_fit_2021/